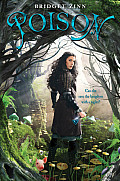 Poison
by: Bridget Zinn
Hyperion Books
2013
Ages: 12 & up
The best potions master in the kingdom is sixteen-year-old Kyra. Incidentally, she also happens to be the kingdom's most wanted criminal. It might sound crazy, but Kyra knows the kingdom is on the brink of destruction and the only way to save it is to...well...kill her best friend, the Princess Ariana. Kyra attempted to kill her with a poisonous dart, but she missed. She never misses! Now she is friendless, homeless and still desperate to save the kingdom.
Despite serious misgivings, Kyra pays a visit to the kingdom's worst criminal - well, other than herself of course - to get his help. He gives her an unlikely gift - a pig named Rosie who will help Kyra find the Princess. As Kyra follows the pig, she meets another unlikely traveling companion. Unfortunately, she meets him - a beautiful and funny him called Fred- in the most embarrassing way possible. So it is with Rosie the pig and Fred that Kyra sets out to complete her mission...but as you know, missions never go quite as planned.
This book is near and dear to my heart. Back when I started library school, I was invited to attend a book club. This particular book club was populated by women who are living my dream - librarians, authors and teachers. The books we read? Picture books, early chapter books, middle grade novels, juvenile non fiction and young adult novels. In a word, heaven.
Of course, I was terrified to go, but everyone made me feel so welcome, and I loved the opportunity to listen and learn from all of these well-read women. Plus, it was fun to try and predict the
Newbery
,
Caldecott
and
Printz
awards for the given year.
One of the attendees was a lovely young woman by the name of Bridget Zinn, the author of Poison. I remember her talking about her process of writing and being
so
impressed that she was a writer. She always had such insightful things to say about the books we were discussing, and it was obvious that everyone in the group enjoyed her company.
About two years ago Bridget passed away.
Even now, years later, there are no words to express the sadness of Bridget's passing.
I did not know her well, but I do know one thing - she wrote a kick ass book.
I always love a story that is set in a kingdom with royalty, magic, folk lore, etc, but Poison is so much more than the setting. It is different from anything else I have ever read, which is saying something. I love that Kyra is a potions master (how cool is that?) and reading about all the different ways that potions could be used - i.e. weaponry and disguise. Kyra is everything a female protaganist should be especially for young adults - she is fiery, determined and thinks for herself. The budding romance is full of antagonism and sweetness and innocence - I love that. Plus, there were so many twists and surprises that this book never felt tired or old. I always wanted to get back into it, and I am profoundly sad that this is Bridget's only book. She was a writer who immediately sucked you into her story and kept you there until you were ready to leave.
As a very small criticism, the end of the book did feel rushed and all the loose ends tied up a little too neatly. I got the impression that perhaps Bridget intended for this to be the first in a series. In fact, I'm not sure that Bridget herself was able to finish the book before her passing, so the ending could be a result of other people trying to finish it for her. This is not to say that I did not love how things ended. It is a made up story, so I think it is okay for things to be tied up perfectly in the end.
Read it. You won't be sorry.